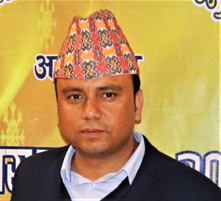 Pastor Sagar Baizu had stopped at a café for coffee on July 19th when he was suddenly assaulted by a group of men. After beating him on the head, the assailants fled with a warning: "We will blast your church and all the churches with bombs and shoot you and all your leaders." Cafeteria staff assisted the pastor and police were called to the scene. Thankfully, there appears to be no lasting long-term injuries.
Pastor Baizu is head of the Anugrah Vijay Church and spokesperson for the Federation of National Christians in Nepal. As an advocate for Nepali Christians for over 10 years, he is well known for his advocacy.
Christians in Nepal have been facing pressure which is expected to dramatically increase when the new anti-conversion legislation becomes official on August 17th. While sharing the Gospel has been forbidden under the 2015 constitution, the new law removes even more religious freedoms and adds new punishments for those convicted. A strong influencing factor in establishing this legislation is pressure from Hindu nationalists in neighbouring India (read more here).
According to a local contact for The Voice of the Martyrs Canada, Christian worship and training will continue to be allowed, but any outreach would need to be done indirectly. Christians in Nepal are prayerfully considering how to fulfil their mission in the days to come.
Pray for Pastor Baizu's safety and full healing. Also prayerfully lift up the country's other Christians who are likewise under threat and, therefore, in need of the Lord's protection. May He grant the Nepali believers wisdom and guidance as they seek ways to continue spreading the Gospel, despite this new legislative opposition.