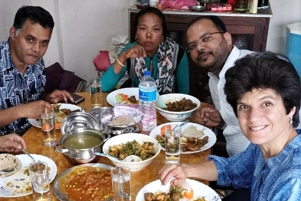 Five Christians, including two foreign nationals, were arrested on April 23rd on allegations of attempted proselytization. The arrests happened during an early morning raid on a hotel in Ghorahi. The police seized Bibles, computers and other items, including American currency. Before being arrested for preaching Christianity and converting through allurement, the five were scheduled to attend a Christian conference that day.
Among those arrested was the General Secretary of the Nepal Christian Society, Dilli Ram Paudel. Others included in the arrests were an Indian citizen, Gaurav Shrivastava; an American citizen, Leanna Cinquanta; and two Nepalese citizens, Kunsang Tamang and Pramid Kafle. After being detained for ten hours, Leanna's visa was revoked and she was deported to the United States. The others are facing criminal charges.
Opposition to Christians and other religious minorities has increased markedly since new laws were passed in August 2018, criminalizing any encouragement of religious conversion.
Please prayerfully remember the remaining Christians who are facing unjust allegations, asking God to mediate on their behalf. Pray that His truth and righteousness will be upheld so that His people in Nepal will be able to freely practise their faith. May the existing anti-conversion laws be repealed so that the religious rights of all will be respected.