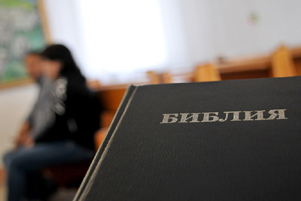 Churches in the Nizhny Novgorod Region of Russia have been facing increasing pressure from law enforcement officials in recent months. According to Forum 18, this pressure includes the use of "anti-missionary" legislation and immigration law. The result has been punishment for churches and their members for things such as inviting foreign students to parties and posting worship videos on social media.
For the past few months, two African medical students have been facing prosecution because they appeared in worship videos produced by the Jesus Embassy Church. The church, along with others from the Russian Pentecostal Union, have had an agreement with several African embassies to work with students studying in Russia. But when Kudzai Nyamarebvu from Zimbabwe and Nosise Vusiwe Shiba from Swaziland participated in videos appearing online, authorities deemed they were participating in evangelistic work. Evangelism by foreigners has been restricted in Russia since legislation was introduced in 2016.
Both of the young women have been convicted and fined. Kudzai was found guilty of "hidden missionary activity, not expressed in either words or gestures." For Nosise, it was ruled that singing on stage is missionary activity and, therefore, against the terms of her educational visa. The courts eventually ruled that the students were permitted to finish their course work and write their exams, but they must leave the country by June 30th.
As pressure mounts against the church in Russia, pray that the Christians residing in this restrictive nation will find their rest and peace in Christ. May the Lord guide the church leaders and congregation members as they seek ways to reach out with the message of the Gospel. Also remember Kudzai and Nosise who are resuming residence in their home countries.