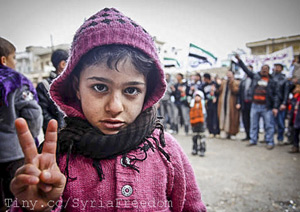 Pray for peace in Syria.
Flickr / Freedom House (cc)
We are pleased to report that Father Jacques Mourad was safely released on October 10th. The Syrian priest had been abducted by members of Islamic State (ISIS) on May 21st during a raid on the Mar Elian monastery in Qaryatain, Homs. Although the circumstances leading to his release are not yet known, contacts in Damascus have confirmed that he is in good health and expected to travel to Syria's capital soon. Following his release, Fr. Mourad attended a worship service in a town close to Homs.
In early August, ISIS seized control of Qaryatain and took additional Christian hostages. (More about this can be found at this page.) Evidence emerged on August 20th that the Mar Elian monastery had been destroyed. On October 1st, a separate ISIS video emerged, purportedly showing a gathering in August of more than 50 Christian men in Qaryatain. The video shows the men signing a contract undertaking to pay the 'jizya' subjugation tax to ISIS and refrain from all public expressions of non-Islamic worship. According to separate reports, an Assyrian Christian, Fahid Khazaal, was executed by ISIS in September for refusing to accept their conditions.
Additional atrocities, including the recent execution of three other Assyrian Christians, have led to heightened concerns for the approximately 200 remaining believers still being detained by ISIS. (Last week's report on the execution of the three men can be found at this page.) Syrian Christians are requesting renewed prayer for peace in their land and for all who are affected by the ongoing violence.
In accordance to Psalm 100, let us enter God's gates with thanksgiving and into His courts with praise, for He alone is worthy of our worship. We specifically thank Him for the safe release of Fr. Mourad and others who were once held captive by the ISIS terrorists. May they experience the Lord's restoration, guidance and wisdom after such a trying ordeal, while acknowledging Him for their newly regained freedom. We pray that their release will precipitate the freedom of the many others who were abducted and, at this very moment, in need of His presence and protection. Ask the Lord to also minister encouragement and comfort to their loved ones, and to ultimately reveal His sovereignty and majesty among the suffering people of Syria -- not to mention those who are instigating the terror so they, too, can acknowledge Him as Lord over all!