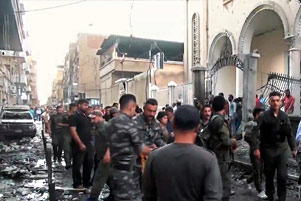 On July 11th, the Syrian-Orthodox church in Qamishli was the target of a car bomb attack. Although there were no known fatalities, at least eleven people were injured. Cars and buildings in the area, including the church facility, sustained serious damages. According to one source, the injuries would have been far worse had the attack happened 30 minutes earlier when the vespers (evening prayers) had ended.
Blame has been placed on the self-proclaimed Islamic State (ISIS) terrorist group but, at last report, there has been no official claim of responsibility. While American-backed forces declared victory over ISIS in March, local cells continue to pose a threat to the local population. For more information on persecution in Syria, go to our country report.
Praise God that this recent bombing attack did not cause any fatalities nor worse damages. Pray for the rebuilding efforts of these targeted church members, asking the Lord to provide the means for restoration and to encourage them throughout the process. Also intercede for Syria's governing authorities as they seek to establish adequate defenses for their citizens' safety and attempt to resolve this bombing case. May those responsible for the attack be brought to justice and realize their need for the forgiveness and grace of God.