The Voice of the Martyrs received several reports in recent weeks from AsiaNews about attacks on Christians in Bangladesh by militant Muslims.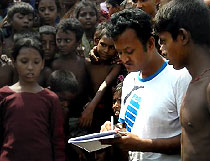 William Gomes interviewing
Photo from AsiaNews
On September 25, Muslim militants attempted to kill a convert from Islam to Christianity, along with his wife and child, by setting his home on fire. In the days before the arson, militants had threatened William Gomes with death for intervening in an assault on his cousin by a Muslim man. Gomes, a journalist and human rights activist, had sought protection from police following the threats. However, it was only after the fire that they guaranteed police intervention.
Anup Rodrigues (25) was brutally beaten on September 27 by members of an Islamist group after attending evening Mass. Rodrigues was waiting at a park for friends when four men dressed in traditional Muslim clothes attacked him from behind with iron rods and bamboo sticks. They accused him of insulting Muhammad and said Christians were a "curse on the nation" who wanted to convert Muslims. Rodrigues was eventually able to escape his assailants. The week before, he was threatened by a Muslim man who overheard him speaking with friends about the prophets of different religions. The Muslim stated that he belonged to an Islamist group and that they had the duty of carrying out jihad to punish people like Rodrigues.
Pray for safety for William Gomes, Anup Rodrigues and their families. Pray that they will not be fearful but will trust God (Revelation 2:10). Pray that attacks on Christians in Bangladesh will cease.
Go to the Bangladesh Country Report to find out more about the trials Christians are facing in Bangladesh.