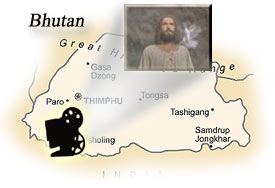 John Tamang and Benjamin Sharma
were imprisoned for showing the Jesus Film
Last month, the Persecution and Prayer Alert featured two Christians in Bhutan who were sentenced to prison without trial because of their testimony for Christ (for more information,
click here). According to a recent report from Jubilee Campaign, the two men, John Tamang (35) and Benjamin Sharma (32), also referred to as John Dai and Benjamin Dhunigana, have been transferred from jail to jail. Their present location is unknown and family members have been unable to contact them. Both of the men were former government employees who were terminated from their positions because of the allegations against them. Benjamin is married with three children. John is married with one child. Pray for protection and strength for John and Benjamin and their families.
To learn more on the country of Bhutan, click here.