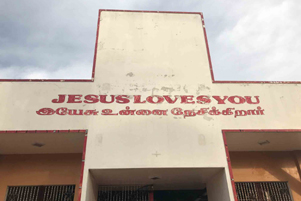 As the pastor and congregation of the Christian Family Church in Galgamuwa prepared to begin their Sunday worship service on the morning of February 24th, a mob consisting of around 200 people, led by Buddhist monks, forced their way into the church premises.
Members of the mob demanded that the service stop immediately; one monk even threatening them with death. To further demonstrate their point, they broke chairs and damaged roofing sheets. As they were leaving, one woman was dragged into the street where she was beaten. When police arrived, the pastor and the woman who was assaulted were taken to the police station. When they got to the station, the monks were already there filing a complaint against the pastor for "breaching the peace." Complaints were also filed by the pastor and the assaulted woman who was then admitted to the hospital for treatment.
Incidents of this type are unfortunately common in Sri Lanka where Buddhism is considered by many as part of the nation's culture. To learn more about the persecution of Christians in Sri Lanka, as well as the ways VOMC is assisting them, go to this page.
May the Gospel of Christ continue to permeate the nation of Sri Lanka. Pray that these Christians will continue reaching out with the message of God's love to those around them through both word and deed. Intercede for the injured woman, asking the Lord to heal her completely from the injuries. Pray that the nation's leaders will stand up in defense of the religious freedoms for all their citizens.